Agro Air Dynamics HVLS Ceiling Fan
High volume, low speed fans are designed to move air throughout your entire facility. HVLS fans are a great solution for any time of the year. In warm summer months HVLS fans circulate air so your animals (as well as your workers) feel cooler. In cold winter months the large overhead fans push warm air that rises back down to ground level.
Agro Air Dynamics HVLS fans are silent. The permanently magnetic direct drive motor makes our HVLS fans maintenance free and energy efficient while providing the ultimate cow comfort. Not to mention installation is simple with our innovative one-piece design.
Description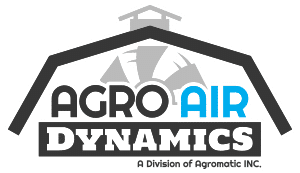 Motor bracket is integrated to ensure the safety of the structure
Break-off protection design ensures the safety of the fan should the fan be suddenly stopped
Aluminum magnesium alloy tensile blades are light weight while providing strength, long life and safe operation
Wire rope traction device ensures motor stability
Automatic power off protection to ensure timely and safe shutdown